With the help of COVid-19 I have some time to recover an old saved game on Championship Manager 97/98. I joined Scuntorpe for the early season and after a good start I ran in a sequence of changes to the roster that drive me to a difficult situation and then I gave up. The yesterday I had the time to get back to game and analyze a little better the situation: last five matches I got 4 defeat in a row and just one draw scoreing 3 goals vs 13. Definitely to much. For this reason I started reviewing the midfield trying to proctect better the defence. Walker looks to be a good midfielder with Position 20 and Tackling 16 to be put in the low angle of the rhombus an keeping an attacking midfielder on the opposite side. Didn't change too much in the other side.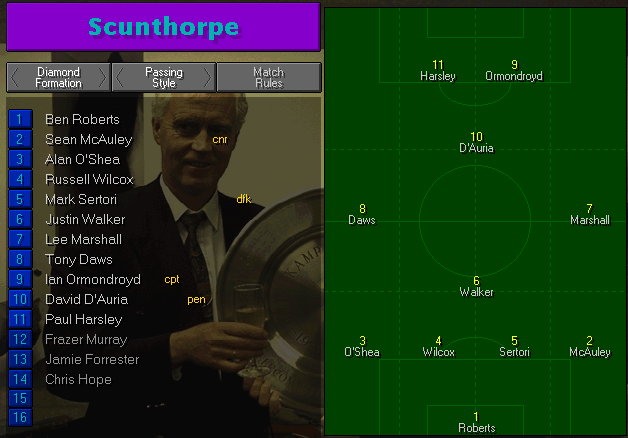 The opponent is the Rotherham, not a great team is lower in the table 2 points below us… Fortunately the match starts very well for us and Ormondroyd scored two goals in the first 5 minutes. The first half is not so beatiful actually and no much things happens. In the second half everything changed when the Rotherham starts playing with a 4-3-3. Form now one we take full control of the game and we start a barrage of shooting that didn't move the score for the ability of them goolkeeper.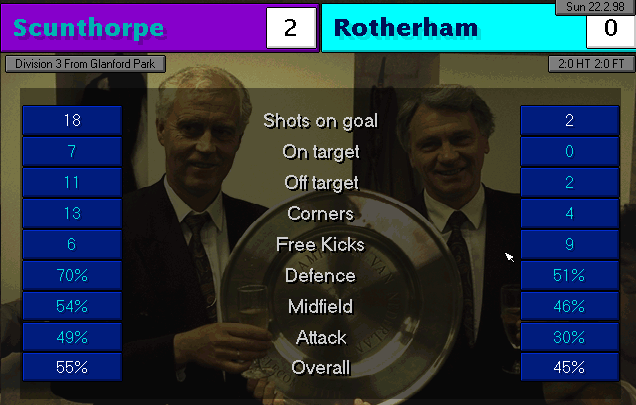 Looking wider to the overall performance of the team, probably this is not the match from which have a signal of improvements but definitely it was a good game. The next match, away with the Doncaster (second to last) , may take some further information on the form status of the team.