Chapter 9 – The turning point
We approach the game with Maccesfield in emergency: Preece has not yet recovered while Marshall, Walker and Harsly have spent everything in Wednesday's game. I have to take some risk. I chose to put two full backs as winger: Akhmedov on the left and Blamey on the right. Up front are Ormondroyd and Forrester. The game starts badly, after twenty minutes we lose 1-0. With the current set-up we can not arrange much and at the beginning of the second half I remove the usual apathetic Akhmedov and insert Marshall on the right, moving Blamey to the left. We manage to gain some yards but even inserting Harsley nothing changes. It ends 1-0 and as usual, they scored us with the only shot on goal…. The following Wednesday is Rotherham for the second round of the Windscreen Shield. In attack it is a real disaster 3 out of 4 players are injured and not available. We lose 3-0 and we are out.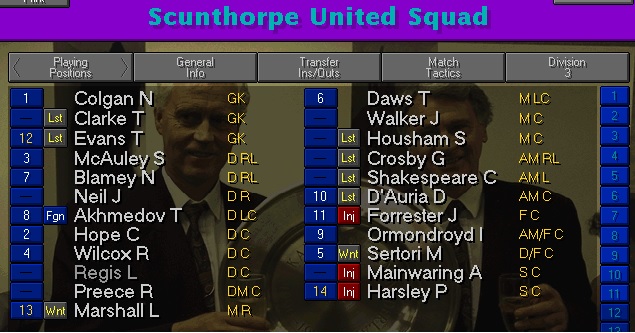 On Saturday we play the second round of the FA Cup and win 4-1 against Stalybridge. A double from Ormondroyd and Preece (MoM) and Crosby goals. It was a easy, the next round will be Ipswich Town of the first division: it will be tough.
Finally some rest to recover some resources lost in the last games. We play the last home leg against Bristol C below us by only 4 points. We dominate but never hit the goal and it basically ends 0-0. Without Harsley and Mainwaring still injured, if the old Ormondroyd doesn't manage it, we can never hit in the door …