After get back the leadership of Scunthorpe, I'm preparing for the second away match against Doncaster and based on the motto "winning team does not change" (not sure if it works in english) I keep the same starting eleven. The first half flows away with a couple of good chances but the problem is that we never hit the goal. In the half hour, Harsley wake up first scoring after a goalkeeper's short rebound and then with a personal action a minute after having almost doubled. The Doncaster changes both external midfielders but the music does not change and at the end of time Ormondroyd takes advantage of a defender mistake and doubles. The Doncaster, however, immediately reopens the game at the start of the second half. The match still seems to be in control and Harsley has a couple of important conclusions. At 79 'Robinson saves on Pemberton and is miraculous at 85' on a head from a corner kick.

We finally achieved the 3 points but the MVP is the goalkeeper Robinson. D'Auria also did well (vote 8) positioned behind the forwards. Unfortunately we are still 8 points far in the ranking from Colchester 7th which is last team in the PlayOff zone. The next match is against Swansea 19th with 9 points from us.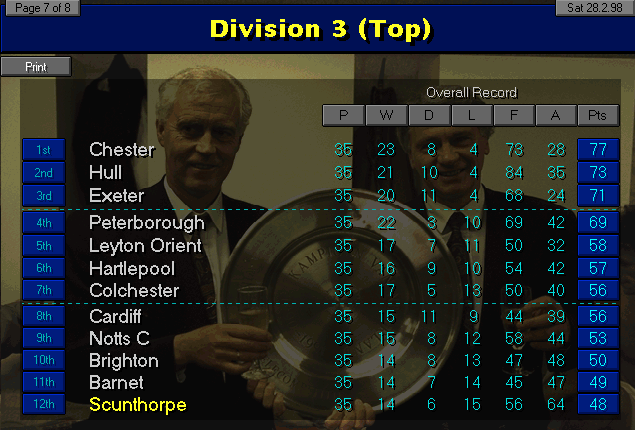 Since we have won two games, I look at the roster a bit and decide to try some alternatives: the left defender that I have O'Shea is on loan and Akhmedov an Armenian bought in January to do the central with no luck could be a good alternative. Unfortunately however in training McAurey got injuried and therefore I prefer not to change too much. I keep O'Shea to the left and I put Neal to the right where he had done well before the injury at the beginning of the season.
The game starts well: at 12 'Harsley assisted by D'Auria brings us ahead. It's a really foulness game, at 28 'Swansea claims a penalty but the referee didn't give it. In the second half, practically nothing happens until 60' when there are a couple of occasions on each side. Corner kicks never lead to anything: I take them away from D'Auria I try to get them to Sertoni first and then Neal but nothing changes, always poor results. At 71 'Sertoni do an handball in the box and this time it drives a penalty a yellow card and above all the drawn. I should try to change something, but honestly I don't have many options. I then take out Ormondroyd and put Forrester and O'Shea in charge of the corner kicks. At 89 'the turning point, O'Shea play a strange corner kick on which Staton does an own goal the winning goal.