We return to play at home and the next match is with Rochdale which is 50 points, only one point above us, the playoff area is still 8 points away but with 10 games and 30 points available everything is possible. Unfortunately Wilcox got injured in mid-week and therefore a place as a central defensive opens … Akhmedov or Hope? Go for the Armenian.
At 7′ we are already under Roberts is not perfect on the occasion. The ball possession is mainly of the opponents and the attackers are not in the game (vote 4 and 5) so I try to skip the midfield choosing long ball passes. I take the free kick to D'Auria and try to move it to Harsley. At 37′ it is Harsley who blows the ball to Farrell and score but for the referee the attacker has made an irregularity and cancels. At 42′ the Rochedale scores again but also this time the referee cancels for offside. The first relevant action starts from D'Auria feet but Ormondroyd kicks weakly. The first half ends. I move to use the direct passages to see if we can get closer to the door.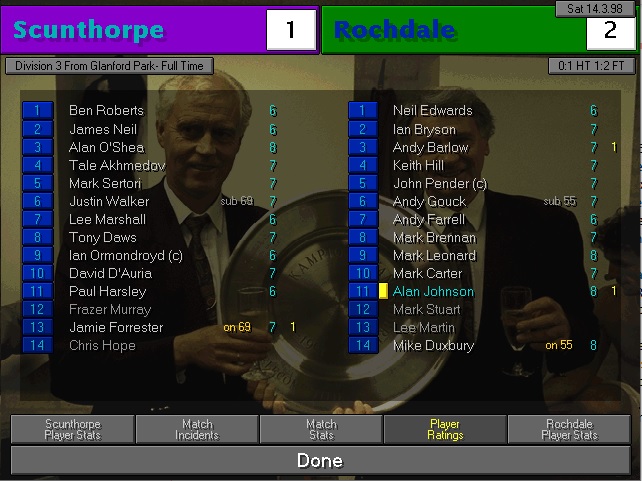 At 55′ Rochdale hides in 5-3-2 moving to the counterattack. I have to dare more, I move Walker forward in the middle of the field and I move slightly forward the wings. At 68′ Rochdale score the second goal. Ok, at this point I play all the cards I have: I take out Walker and I put in Forrester and I play with a very offensive 4-3-1-2. At 74′ we shorten the distances, just with Forrester: let's try! Nothing happens anymore! It ends 1-2, deserved defeat. The feeling is that the Rochedale is stronger and we end up at 11 points from playoffs area … Game Over …

The management did not like it. The next game is againt the third in the standings. Prohibitive? At 38% possession I try with the long ball. At the 25′ we go below after a short rejection by Roberts. At the 27′ Walker is sent off for a foul as the last man and practically our game it's over and thus the ambitions to access the playoffs. It ends 5-0.