Walker was suspended for a game: I have to review the set-up. Before the closure of the market window I managed to sign for a player with the contract near expiration: Roger Preece. He seems to have good skills and could be a good midfielder for the diamond schema.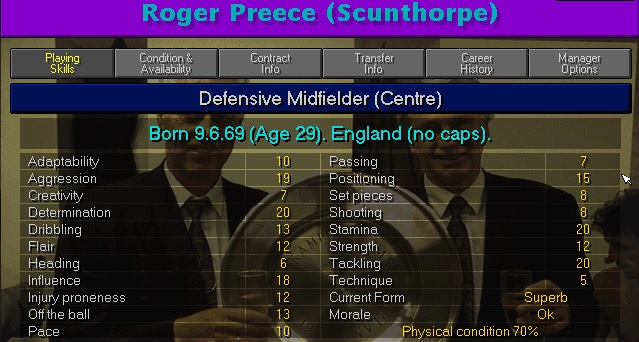 Wilcox is back from the injury but the condition is too low 75% so I keep the same schema of the previous match. The opponent is the first in the standings, really challenging … After 20 minutes we are under two goals and we struggle to get out of our half of the pitch. At 22′ Davison does a handball in the area, the referee commits a penalty kick and sent out him. D'Auria however shoots badly and has it parried. Bad … After a few minutes we also take the third goal and in the second half Roberts is sent out leaving us in 10 and without goalkeeper … 1-6 a real disaster … The next game we play against Barnet, I promote Hope and in attack I keep Forrester and Harsley in front of. The first half flows with several chances for Barnet which never hits the door. In the second half I move the center of gravity a little forward opting for a classic 4-4-2. The game changes, we are handling the game and at 55′ Harsley scores for us. From then on, we have numerous opportunities but we never manage to double. At 70′ I try to give Akhmedov a chance by putting him in O'Shea's place on the left … It doesn't shine much. As the game ended at 90′ Forrester makes 2-0. The diamond pattern against this opponent did not work that much, the 4-4-2 much better.
The next game we receive the Hull third in the standings, Roberts is suspended and I put Evans back on the field after months. Wilcox is recovered and consequently I put him back in the center of defense to team up with Sertoni. I leave Ormondroyd on the bench again for the third time in a row. Its shape is not that great. Like all the games played with the top teams of recent times it is another bad defeat: we lose 3-0 playing most of the game in 10 beacuse of Neil being sent off. Hope as a lateral defender plays a fair match. To be taken into consideration for the future.
From here to the end of the season we lose badly all the matches with stronger teams, like Exter 0-5 and Chester 1-6 (at home). To be noted only the 8-1 final on the pitch of Scarborough already widely demoted. We end the league at the 15th position with 59 points and the second worst defense fo the whole league, a sign that it is clearly the one we must work on, 17 points far from the playoff area.